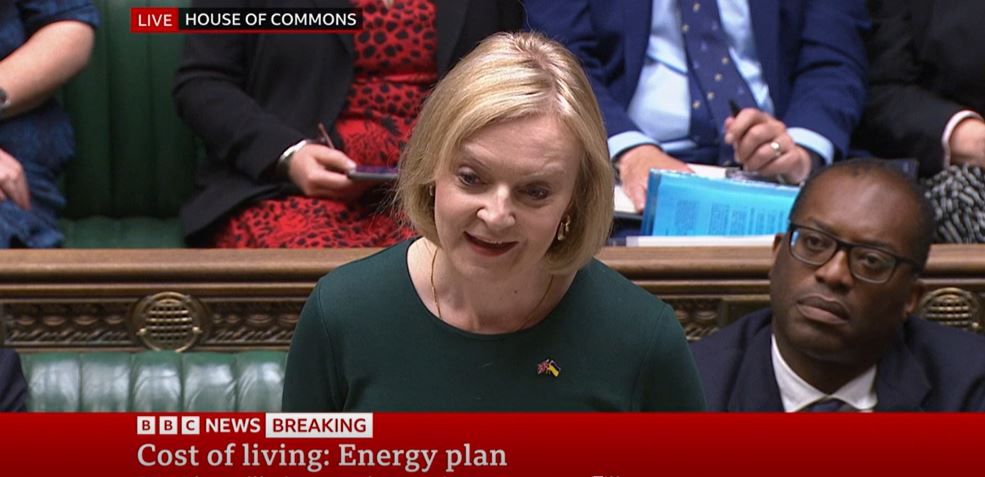 New PM Liz Truss has spoken in Parliament and confirmed her policies on the current energy affordability crisis.
"There will be a new six-month scheme for businesses which will provide equivalent support to that being offered to consumers,
"After that six-month period, ministers plan to offer focused support to vulnerable industries", Liz Truss said.
Residential properties will see an energy price cap to be set at £2,500 a year for two years from 1 October.
The plan will save the average household £1,000 a year,, and comes in addition to the £400 energy bills discount that has previously been announced.
The PM said the government recognises people are struggling with their energy bills and adds emergency legislation will be brought forward to deliver the policy.
How the plan will be paid for will be laid out by Chancellor Kwasi Kwarteng as part of his fiscal event later in the month, she says.
A new Energy Supply Taskforce will negotiate with suppliers to agree long-term contracts, that reduce the price they charge for energy. They will negotiate with renewable produces to reduce the prices they charge as well.
"This is the moment to be bold", Liz Truss said, adding that there are "no cost free options" to the dealing with the global energy crisis.
Dorchester Chamber for Business Vice President Steve Bulley said;
"It is encouraging to see the new Prime Minster outline help for businesses although only guaranteed for six months. We will be lobbying locally to ensure that the business community in Dorset is given the assistance it needs to continue trading after that period". Steve added; "Many of our members are small businesses who work from home and we are pleased to hear these individuals will be protected against the projected increases in energy bills with the £2500 annual cap for residential properties".
To join Dorchester Chamber for Business for just £60.00 a year (no VAT) click: Join Us – Dorchester Chamber for Business